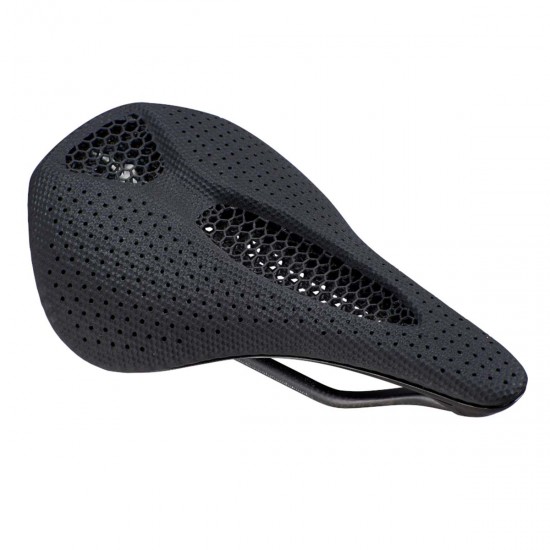 Top Brand
SPECIALIZED S-WORKS POWER MIRROR SADDLE
SPECIALIZED S-WORKS POWER MIRROR SADDLE
The Specialized S-Works Power Mirror Saddle revolutionises comfort thanks to a brand new, 3D-printing manufacturing process. By amalgamating this innovative method with the revered Body Geometry concept the Power Mirror grants in the saddle serenity to a vast spectrum of riders during the longest and most demanding of riding scenarios.
Specialized has partnered with 3D-printing specialists to create Mirror Technology, which consequently produces the upper padding structure of this saddle. Realised in a multi-density, polymer lattice formation this new padding construction adapts infinitely to the rider's anatomy to result in optimal sit bone support. A Body Geometry tuned, deep and wide central relief zone complements by ensuring healthy blood flow and by eliminating nerve impingement in sensitive areas of both male and female riders.
The short-nosed silhouette is designed for more aggressive riding positions and for when the rider is on the limits of exertion. At the same time, a profile that blends the original Power shape with that of the Power Arc increases the scope of comfort to a broader range of cyclists.
The one-piece padding construction is bonded seamlessly to the full carbon base that is light, strong and compliant. Carbon rails lower the weight further but are also vibration damping, while a non-slip cover completes by establishing shape retention and by aiding power transfer.
• A revolutionary 3D printed manufacturing process meets Specialized's Body Geometry format to result in a brand new Power saddle
• Partnering with a 3D-printing specialist company called Carbon, the upper padding of this saddle is created from a polymer lattice structure, that is infinitely tuneable
• The density of this lattice structure padding is tuned in line with high-pressure areas via Specialized's Body Geometry concept to grant optimal sit bone support
• A deep and wide central pressure relief channel ensures a healthy blood flow and eliminates the chances of nerve impingement in sensitive areas for both male and female riders
• The short-nosed profile sits between that of the traditional Power saddle and the Power Arc model to offer comfort to a broader spectrum of riders
• A 3D-printed cover aids form retention of the padding and are grippy to avoid sliding under power
• The one-piece upper is bonded to a full carbon base that is light, strong and compliant
• Carbon rails lower weight but are resilient and vibration damping
• Two widths are available, 143mm and 155mm to facilitate an optimum fit to all riders, male and female alike
• Size/Weights (manufacturer claimed): 143mm / 190g, 155mm / 194g
• NOTE: Oversized 7x9mm carbon rails are not compatible with seatposts equipped with side-load clamp mechanisms for 7mm round rails
Stock:

In Stock

Model:

1430847

Specialized